Build the Foundation of Your Nursing Career with a Direct Entry MSN Degree Designed for Non-Nurses
The JoAnn McGrath School of Nursing and Health Professions leader in nursing education in Milwaukee since 1932. Located southwest of downtown Milwaukee close to major transit routes, Alverno College houses a technology-rich Center for Clinical Education (CCE) to optimize nursing student learning.
Students at the Milwaukee campus can choose an accelerated 18- to 20-month program completed over five semesters or a more moderately paced 36-month full-time program completed over nine semesters. Explore our courses here.
The Milwaukee Campus CCE features:
The Clinical Simulation Center (CSC), consisting of four high-fidelity simulation rooms that mimic specific settings: medical/surgical, critical care, labor and delivery, and pediatric units. The CSC uses high-fidelity adult, pediatric and newborn patient simulators, real world equipment, and portable medication scanners and electronic health record systems.
The Clinical Learning Center (CLC), offering simulated settings where you learn to work with patients, conduct physical assessments and practice clinical procedures. The CLC includes multi-bed spaces that allow for the learning of hands-on skills and practice in a setting similar to a health care facility.
DEMSN students at Alverno experience a wide range of clinical experiences. We have well-established partnerships with all major health care systems in the Milwaukee and surrounding area. Clinical placements are guaranteed.
The DEMSN program prepares students for professional nursing practice and ongoing pursuit of graduate nursing education. Alverno's Milwaukee campus offers the following programs of study that can help you take your nursing knowledge and skills to the next level:
Direct Entry Master of Science in Nursing (DEMSN)
Advanced Practice Nursing Post-MSN Certificates:

Adult-Gerontology Acute Care Nurse Practitioner
Adult-Gerontology Clinical Nurse Specialist
Adult-Gerontology Primary Care Nurse Practitioner
Family Nurse Practitioner
Psychiatric Mental Health Nurse Practitioner
Neonatal Nurse Practitioner (NNP)

Doctor of Nursing Practice (DNP)
Find Alverno in Milwaukee
Address:
3400 S. 43rd Street
Milwaukee, WI 53234
414-382-6000
Take a Virtual Tour!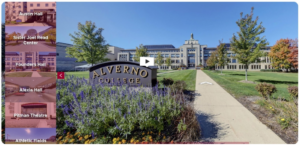 Why Milwaukee?
Milwaukee is a gem of a city that is often overshadowed by neighboring Chicago, but as any local will tell you, the cost of living, vibrant foodie scene, the famous Milwaukee Art Museum, and the endless outdoor activities cannot be beat.
Most people think of Seattle when they think of coffee, but Milwaukee is one of the leading coffee roasters in the country. With amazing local favorites like Anodyne, Kickapoo, Stone Creek, and Colectivo, you can always enjoy a local cup to help you power through nursing study sessions.
When you are done with your studies, this is the city that beer built. There are over 70 breweries and beer attractions throughout the Greater Milwaukee area to enjoy (for those age 21+ of course).
If you are looking for something with fewer calories and more movement, Milwaukee is known as the City of Festivals. All year long, but summer in particular, the city is bursting with celebrations and fireworks. From Polish Fest to Mexican Fiesta and the world-famous Summerfest, Milwaukee is always celebrating. Explore the festivals here.
When the cold weather does arrive, don't worry – Alverno has you covered, literally. Students can go anywhere on campus without going outside in the snow. It's true! A system of covered hallways will get you from on-campus housing for all graduate students to the library and anywhere in between.
Get Started Today!
Find out how you can start building your bright future in nursing with Alverno College's nursing university in Milwaukee. Get more info about our DEMSN program today!